Located at 1.224m a.s.l., in the heart of the Dolomites, and a UNESCO World Heritage Site: Cortina d'Ampezzo is one of the most prestigious resorts in the Alps and a popular summer and winter tourist destination. The natural beauty of the Queen of the Dolomites is irresistible for travelers looking for peace and quiet in nature, escaping the frenzy of everyday life, as well as for visitors wishing to practice outdoor sports and activities.
The wide valley is second to none for its extraordinary beauty and is surrounded by iconic peaks such as the Tofane, Faloria, Cristallo, and Cinque Torri, making it one of the most prestigious alpine destinations in the world.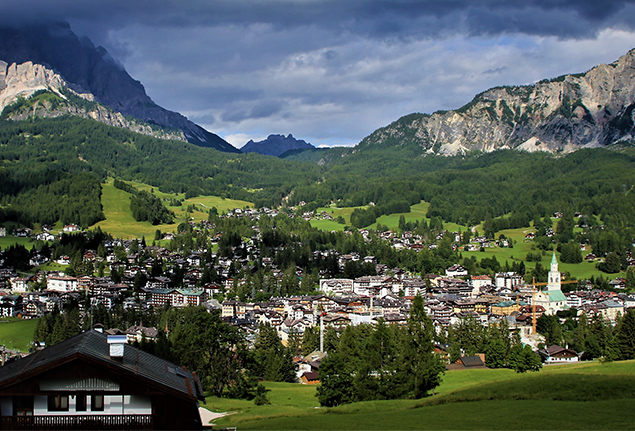 Sport is in Cortina's DNA
Cortina d'Ampezzo's fame and vocation for sport and the outdoors go back a long way. As early as 1860, the valley attracted the first enthusiastic alpinists from all over Europe and at the beginning of the twentieth century the first ski races were held. Tourism was given a boost by the opening of the "Strada delle Dolomiti" which connected Cortina d'Ampezzo with neighbouring valleys.
Sci Club Cortina was founded in 1903 and over the years gained prestige and recognition both in Italy and abroad, so much so that it was awarded CONI's Golden Star in 1973
The definitive consecration of Cortina d'Ampezzo as a prestigious alpine sports and holiday destination was during the 1956 Winter Olympics, when the Olympic Games were broadcast live on television for the first time in Italy. The show was impressive: 32 nations participating with 923 athletes. For the first time in the history of sport, a woman, Giuliana Minuzzo, read the Olympic oath; the athletes wrote heroic pages; the media reported enthusiastic comments on the event; in the end, the beauty of the mountains was the crowning glory of the sporting successes.
Since then Cortina d'Ampezzo is a world-class touristic destination. A place selected for numerous international sporting events: the Women's Alpine Skiing World Cup, the Snowboard's World Cup, the Dobbiaco-Cortina Granfondo maron, the many trail running and outdoor disciplines events.